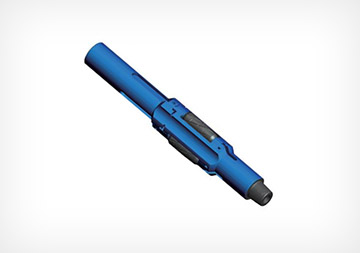 The Roller Reamer is an efficient Bottom Hole Assembly (BHA) reaming and torque reducing tool. It provides reaming action for improved borehole shape, size and quality. It also provides stabilization action by centralizing the BHA, minimizing down-hole vibrations, preventing the BHA from resting on the low side of the deviated hole, and minimizing BHA fatigue. Torque reduction results from touching the formation with a set of rollers spinning around their axes as a result of rotation of the central body.
OilTools Services Roller Reamer is engineered and optimized to comprise a set of advanced features for enhanced reaming, high durability and maximum reliability. All parts of the tools are made of special alloy steel and heat treated for hardness. Each body by simply adjustment of blocks and proper selection of cutters, will suit a wide range of hole sizes. As formations and/or drilling requirements change, cutters can easily be replaced any part at rig site without the use of welding, cutting or special tools.
Benefits
Reduced torque, stick slip and vibration
Improved bit performance and extended BHA component life
Reduced need for time consuming back reaming
No limit to the application of the roller reamer in varying well profiles i.e. vertical, directional and/or horizontal sections
Reduce cyclical fatigue and increase life of tool joints.