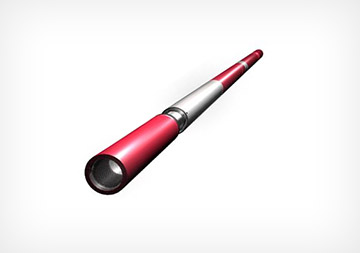 REDUCES BIT BOUNCE, INCREASES RATE OF PENETRATION, AND EXTENDS BIT LIFE IN HARSH DRILLING ENVIRONMENTS
OVERVIEW
Downhole vibration can severely limit the life of a drill bit in hard rock formations, slowing down rate of penetration (ROP) and increasing non-productive time (NPT). The shock tool from OilTools Services incorporates differentiating features to help reduce weight-on-bit variation while enhancing reservoir understanding.
By using steel disc springs and hydraulic pump open force while drilling, the tool runs partially open, with the spring enabling the tool to extend or compress, as required, to keep the bit on the bottom and place the well accurately.
REDUCE WELL TIME WHILE EFFECTIVELY ABSORBING DRILLING ACCELERATIONS AND INCREASING ROP
The shock tool is run next to the bit to keep the oscillating mass to a minimum, allowing the shock-absorbing elements to effectively reduce vibrations and accelerations, keeping the bit on the bottom of the reservoir. Within standard drilling parameters, the tool is not limited by drilling weight, torque, type of drilling fluid, flow rate, pressure drops, and temperature. In addition, by increasing the life of the bit and thereby reducing the number of trips, the shock tool can effectively reduce nonproductive time and overall well time for the operator, maximizing asset value.
BENEFITS
Drill to Produce
Reduce bit bounce in tough drilling conditions

Decrease damaging cyclic stresses in bottomhole assembly (BHA) components
Reduce Well Time
Produce effective vibration dampening
Reduce impact load and extend bit life to help maximize ROP
FEATURES

Balanced for hydrostatic pressures
Springs in both directions to handle high pump open forces
Free vertical movement and long life of splines, through minimum friction drive
May be used with standard seals up to 250°F (121°C) and with optional seals up to 400°F (204°C)
Temperature is compensated for by using a balance piston