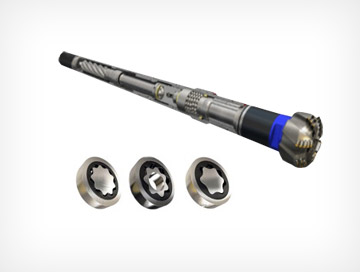 OilTools Services Mud Motors are engineered and designed for durability, and consistency as they provide additional power to the drill bit. They offer different rotor and stator configurations to provide optimum performance while drilling, and they have the capacity to drill large-sized holes used by larger rigs.
OilTools Services Mud Motors reduce bearing loads and differential pressure while maintaining seal through drill string operation. Dynomax Mud Motor's leading design provides adjustable bent housings while still accommodating high torque field scenarios.
OilTools Services Mud Motors are proven to operate in extreme drilling conditions. They increase the rate of penetration and can therefore reduce drilling times.
Benefits
High speed rotation rate enables deep penetration
Performs well in very hard rock formations
Directional, horizontal, and vertical deviation control wells can be effectively drilled with motors by selectively rotating the drillstring to control the trajectory of the wellbore
Motors incorporate a wide range of power sections in sizes ranging from 4 3/4" (120 mm) to 8" (203 mm).
Features
 

Custom designed thrust bearing maximizes load while optimizing space.
Splined drive shaft to distribute an even load over the splines; with reduced vibration.
Adjustable bent housing (0° to 3° in 13 increments) or a fixed bent housing.
Flow restrictor that reduces pressure in the bearing assembly to a near balanced condition and extending seal life.
Employs the patented Kalsi Rotary Seal – a seal that has been successfully run in down hole drilling applications for over 20 years.
Includes increased internal drive line dimensions to accommodate more torque required in today's drilling operations (e.g. Extended and Even Wall power sections).
Tungsten carbide coated for maximum wear and erosion protection
Positive Displacement Mud Motors for a Wide Range of Conditions
Chloride ion content over 50 kg/m³
Oil content in the drilling fluid over 10%
Bottom-hole 

temperature above 110°C.