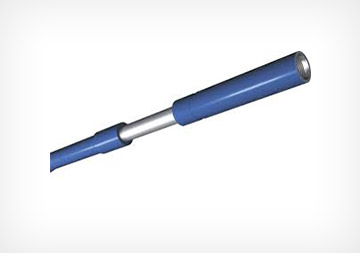 OilTools Services jars are designed and manufactured for the severe drilling conditions encountered in vertical, directional and horizontal wells. This jar operates as a double-acting hydraulic jar. BHA recovery and reliable jarring operation is assured with this double-acting hydraulic jars delivering a high impact force when required regardless of position of BHA in vertical, deviated or horizontal wells. OilTools Services jars operates using the hydraulic metering delay system for both up-jarring and down-jarring.
Applications
Standard and high temperature operations
High-angle drillstrings
All conventional oil and gas wells
Deviated oil and gas wells
Features and Benefits
Double acting, jarring action in both up and down directions
Location in BHA is less restricted. Jar can be used in tension or compression
Long operational life, and can withstand high temperatures
Mechanical lock mechanism prevents jar movement during normal drilling operations, eliminating unnecessary wear of internal components
The Jar will not fire unexpectedly when drilling or tripping in or out of the hole.
Maintenance
All Jars assembly/disassembly in OilTools Services Workshop. Assembly/disassembly procedures include:
Flush all drilling fluid from the bore and external surfaces
Visually inspection of Jars for any damages
Repair services
Replace completely all seals and oil
Installation heavy duty thread protectors to eliminate mechanical damage
Jar testing procedure.