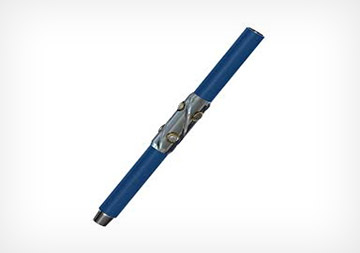 Tool Description
The DYNOMAX SLIDE REAMER is designed to do just that, ream while in the sliding operation. This tool will condition the wellbore while tripping as well as rotating.
The PATENTED cutter geometry rotates perpendicular with the wellbore which differs from traditional reamers which turn parallel. The DYNOMAX SLIDE REAMER allows maximum performance with minimal torque and drag.
Not only is this tool a reamer but with a quick change of the cartridges it can be redressed with hard faced cones and be utilized as a Slide Stabilizer, centralizing the drill string and BHA while conditioning the well bore with the same unique rotating action as the reamer.
This tool is a critical component in performance and directional drilling applications.
Benefis
Integral blade providing 360 degree wall contact
Cutters provide 360 degree wall coverage
Cutters turn with each movement of drill string
(I.e. Rotating, Sliding, Tripping)
Allows optimal fluid passage
Designed to minimize failures at high stress points
Two tools in one. Many different variations can be run on the same tool
Sealed Bearing design
Locked Assembly maximizes performance drilling assemblies while significantly reducing hole drift.
No Bolts: makes for easy change-outs in the field
Helps prevent correction run
Constantly conditioning well bore while drilling, making a connection, or tripping.
More cutting surface area than traditional roller reamer
Reduces torque and drag
Increases bit life
Available size
| | | | |
| --- | --- | --- | --- |
| 5 3/4 - 5 7/8" | 2" | 56" | 4 3/4" |
| 5 7/8 - 6" | 2 1/4" | 56" | 4 3/4" |
| 5 7/8 - 6" | 2 1/4" | 56" | 5.15" |
| 6 1/8 - 6 1/4" | 2 1/4" | 56" | 4 3/4" |
| 6 1/2 - 6 5/8" | 2 1/4" | 56" | 4 3/4" |
| 7 3/8 - 7 7/8" | 2 3/4" | 64" | 6 1/2" |
| 8 1/4 - 8 3/4" | 2 3/4" | 67 1/2" | 6 3/4" |
| 9 5/8 - 9 7/8" | 2 1/2" | 66 1/2" | 6 3/4" |
| 12 - 12 1/4" | 3" | 77" | 8" |
| 17 1/4 - 17 1/2" | 3" | 102 3/4" | 9 1/2" |