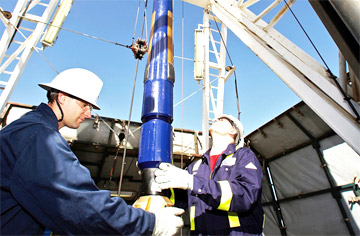 OilTools Services Company provides engineering support services for equipment leased out while drilling wells, both in the Republic of Kazakhstan and abroad.


Engineering, technical, and technological support provides for:


Selection of a PDM, Turbine according to technical and energy characteristics that meet the requirements of the geological section, the bits used, the capacity of the mud pumps, and other parameters;
Shallow hole test of the equipment provided for rent before running to the well;
Monitoring the assembly and disassembly of equipment into the BHA components;
Selection of the optimal parameters of the drilling mode in accordance with the features of the geological section, the bits used, the profile of the well, BHA and the rig equipment;
Training of the drilling crew on the operation of equipment, monitoring their implementation;
Issuing recommendations on adjusting the parameters of the drilling mode to rationalize and improve ROP;
Timely adoption of measures in case of emergency situations (slack-off, overpull, reaming etc.);
Collection of information on the operation of leased equipment, preparation and approval of the necessary reporting and technological documentation. Document technical knowledge in the form of notes and lessons learned;
Our engineer directly at the drilling site carries out engineering and technical-technological support of equipment provided for rent;
Conducting and participating in commission work on failures of their own equipment.